Sean Patrick Simpson and Sarah Prout, bestselling authors of the Adventures in Manifesting series introduce their new series
Heart to Heart: the Path to Wellness
Featuring contributing author Gretchen M. Fox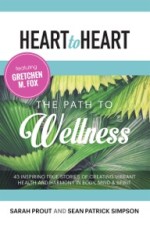 Gretchen's story, Cages of the Mind, can be found in Chapter 1. In her story, she explores the questions many of us ask ourselves everyday without even realizing it. Forced to confront her fears after the painful experience of losing her husband too young, Gretchen started seeking answers instead of questions.
Her experience is one we can all relate to and learn from, whether or not we've experienced tragic loss – the power of forgiveness, gratitude, and breaking free from our self-inflicted cages!
"What a brilliant chapter! I am so excited to be sharing this in the Heart to Heart series… It was such a beautiful story to show your struggle with the loss of your husband, the pain, and all that you went through to the journey of forgiveness… I can't tell you how this is going to impact people." -Sean Patrick Simpson
 

Heart to Heart: The Path to Wellness
includes 43 Inspiring True Stories of Creating Vibrant
Health and Harmony in Body, Mind and Spirit
 How can I get through this? Why me? Am I strong enough?
These are questions all the authors, including thought leaders Dr. John Demartini and Bob Doyle (both featured in the hit movie The Secret), have asked themselves at one time or another.
"Whether you're facing illness, nursing a broken heart, or battling demons from the past and wish to light the way to a brighter future, this book will illuminate your path and inspire you with the understanding that anything is possible.
Heart to Heart: The Path to Wellness is an extraordinary collection of true-life experiences written from the hearts and minds of more than 40 inspiring authors. We created this book because we know there are many journeys for the mind, body, and spirit, and so many life lessons for us to explore, heal, and grow from."  ~ Sarah Prout and Sean Patrick Simpson
 About the Heart to Heart Series
Heart to Heart is a bestselling, inspirational compilation book series dedicated to uplifting your spirit one story at a time through the art of storytelling and sharing transformational experiences. They have been published in more than 30 countries around the world.
If you're ready to be inspired to break free from the cages of your mind and live everyday with health, happiness, and abundance, start your path to wellness now!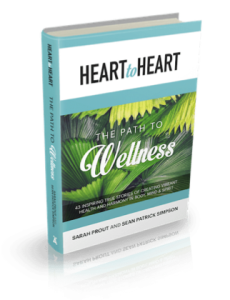 $25 per copy (includes shipping & handling)
When you buy a copy of Heart to Heart, I will include Get Adventures in Manifesting: Healing From Within, FREE, only while supplies last!
*** Note: Books can only be shipped within the USA **