As I sit here wondering what words of wisdom will spill forth, I am listening to the rain.  I love listening to the rain even if it is gray and gloomy, it fills my heart with peace. Have you ever listened closely to the sounds the rain makes?  The sound of the rain hitting the roof is different than when it is hitting the trees or ground. If I listen to the song the rain weaves, I am reminded of the the waves of the ocean kissing the beach.  
We have had an abundance of rain this winter. Snow has been elusive in our area, but the rain has been plentiful. Between the rain and warm weather, my crocus and daffodils are blooming. I am always concerned when they bloom early, because they could be hit by a sudden cold snap and freeze. But this year, it doesn't FEEL that way to me.  
I have daffodils all over my yard. They grow and bloom at their own pace. Because of this, my daffodils last a long time as one area of my yard blooms, another area is spent. Right now I am relating to the daffodils. The few in my front yard that have the courage to bloom early are heralding all those who will come after them.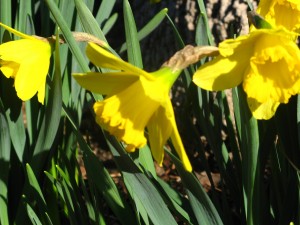 They are the beacon, the beginning of the many, many flowers to follow. It is interesting that a daffodil has more courage than me. It allows itself to just be, beautiful, fragrant and timely. It shows up and puts forth all that it is just because it can. Sometimes I felt like the emerging daffodil that blooms in Spring. Spring, the wondrous time of year when all comes forth fresh, new and alive!  
In Maxine Hargreaves' blog, she speaks of letting go. I know that in order for the daffodils to bloom, they need to let go of what they were in the past, re-create themselves so they can push anew upward and out. All life makes a fresh start over and over again.  
The point, it was time to let go of limiting beliefs.  I see my future self shining with love, joy, well-being and abundance. But my present self was stuck as what to do to get to my future self. What junk I fed my mind with! It is easier for a daffodil to bloom than it is for us to let go of some old beliefs and move forward. What did it take?  
It took realizing where I was stuck and deciding that I wanted something different. We must change what is inside ourselves first, let it go and then we can bloom into what we want to be. Just as it takes a process and time for the daffodil to develop, grow and bloom, it started by just deciding to.   
I have decided to change and grow.  I am in the process of enjoying a whole new world! What more can I say?
Live, Love, Laugh!
Gretchen