The holiday season is upon us once again. I thought the days went fast, but the years are on super speed.  Once again, I am facing another Christmas and Hanukkah that I don't particularly want to celebrate.
Sure I go through all the motions. I decorate the house, put up the lights, trim a tree, send out cards, make candy, buy and wrap the presents. But my heart is not completely into it. I have been doing most of this alone for years, even when Howard was alive, and this year is no different. It gets old.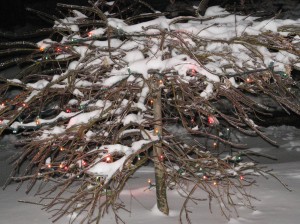 I have always loved Christmas.  The music, the decorations, the anticipation and wonder have put a warmth in my heart and a smile on my face in years past. But over the last few years, I have changed. So I wonder, what do I want for this holiday season? What am I missing?
I miss being around people, talking and sharing their stories and their lives. I miss being with my siblings, laughing and being silly. I miss all the significant people in my life that have passed on and left this world sooner than I had hoped. I miss being surrounded by love.
Sometimes, I wonder if we really need to blow Christmas out of proportion as much as we do. I remember a simpler time. A time before cell phones, email, Ipads, Ipods, digital music, digital cameras and 3-D movies.  A time, when you could really enjoy the season without being sucked in by all the media that makes you believe that "you must have this stuff and you just can't live without it!"
Wouldn't it be nice if all we needed to do for Christmas was to give our time and hearts to each other?
The one thing I am sure of, is that this is a season for kindness, hope, love and peace. A kindness shared can make all the difference in someone's life as shown in the movie, Change for a Dollar, http://www.flickspire.com/m/lscfad/ChangeForADollar
I hope that each of you are surrounded by loving family and friends this holiday season.  May you spread a simple kindness wherever you go. Whether you celebrate this season wildly, quietly, or not at all, may you be filled with peace, love, joy, and well-being now and in the years to come.
Gretchen