I spent this past weekend living it up in the English Middle Ages! Every year or two, my son and I visit a different Renaissance Festival around the country. This year was the Bristol Faire in Wisconsin.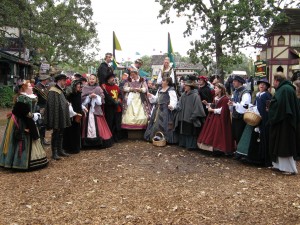 Every festival is a little different and at the same time they all seem to blend together.When you walk through the castle gates, you feel like you have travelled back in time. The dirt streets are lined with Medieval style shops and food stands. If you wear the Medieval attire, you embrace the illusion of how people might have lived back then.
I always find it interesting what some people wear to the Renaissance festivals. While many were dressed in the 1564 style, my son and I included, others choose more bizarre, unique or down right scanty outfits. Anything goes while living out your fantasy in the past. This faire was visited by Trekkies, robots, caveman and a couple of ladies wearing only chain mail and panties.  This was my first experience with Steampunk. I'm still not exactly sure what it is all about, but it was fun seeing all the wild costumes.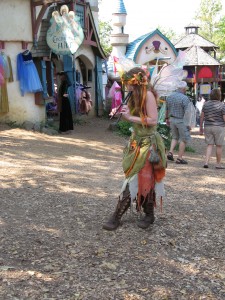 Everywhere you wander, there is music, song, laughter, fights to the 'death', fairies, and mythical creatures abound!  You can have tea with the Queen, watch a joust or laugh at Robin Hood's R-rated jokes. Of course, there is always plenty to eat and drink!
If you are interested in visiting a Renaissance Festival, just google it. Don't be surprised if you find one near you. When you go, just remember to leave the 21st century at the gate.
I love going to these festivals. What fun!  Huzzah!!